Batte melt pump: in-depth analysis of plastic machinery for market needs
With the gradual saturation of the common plastic machinery market in China, more and more products are diversified, the problem of structural surplus of some products is becoming increasingly prominent, and the development of product differentiation in plastic enterprises is imminent.
Nowadays, the level of manufacturing industry in China is embarrassing, and in the key period of transformation and upgrading, plastic has always occupied an important position in the field of Chinese manufacturing industry, and its machinery and equipment have become the key development object. We can see from China's implementation of the "made in China 2025" action that China attaches importance to industrial upgrading. In recent years, more frequent environmental inspectors are also forecasting China's determination to build a green low-carbon economy.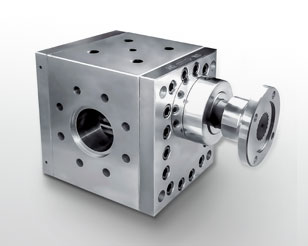 The batte melt pump manufacturers have taken a series of effective reforms in the fields of technological development, product innovation, quality control, internal management and enterprise development. Pan Mingliang, the general manager of the company's melt pump manufacturer, said that the future will follow the environmental concept of "energy saving, environmental protection, safety and health", and take the overall view and step by step towards the development of international enterprises.
High temperature melt pump is the leading product of batte machinery. Next, we will briefly introduce its structure and installation. The main structure of high temperature melt pump is: pump body (CPM tool steel, titanium alloy), gear (CPM tool steel, titanium alloy, special material and wear resistant coating).
Sliding bearing (CPM tool steel, titanium alloy, special material and wear-resistant coating) shaft seal (spiral mechanical seal). H series high temperature melt pump can be installed in a variety of ways, the input shaft of the pump can be arranged horizontally or vertically (upward and downward). The drive system generally includes motor, reducer, universal coupling, pump connection head, reducer connection head and so on.

Any questions about our products, please feel free to contact us! We promise you high-end products and first-class service.Look forward to our cooperation!!!