Products Details
Structural Drawing for BATTE Pulse-free Melt Pump (ZB-M Series):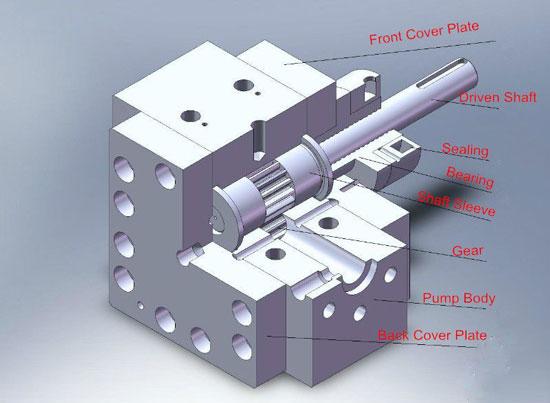 Working Principles of BATTE Pulse-free Type Melt Pump (ZB-M Series):
This type of extrusion melt pump is mainly used in conjunction with extruders or kneaders. It reduces the natural pulsation and irregular conveyance, particularly in single-screw extruders, added to which, the build up of pressure in the gear pump is more efficient in comparison to the extruder. Because of this, less energy or heat is transferred into the polymer and the product is conveyed in a gentler manner. This type of extrusion melt pump is indispensable for the manufacture of precision films or micro granulate.
Specifications
Technical Parameter for ZB-M Series Pulse-free Gear Pump:
BATTE Melt Pump are applicable for such fields as follows:

Film

Fiber Boosting

Co-extrusion

Pelletizing

Coating

Profile

Nonwoven Fibers

Pipe Tubing

Sheet

Blown Film

Nonwoven
Examples of materials processed are below:

LLDPE

PS

PMMA

PP

HDPE

PC

PVC

PA

PET

Many others
Packaging&Delivery
Packaging Details: Items are usually wrapped with foam plastics, and then packed in wooden case.
Delivery Detail: 5-6 weeks after receiving 30% prepayment from the buyer
Email: info@battemachinery.com
Whatsapp: +86 158 38331071