Products Details
ZB-H series high temperature & high pressure melt pump are applicable for engineering plastic or blown film technique.
The main advantages of using gear melt pump on extruder: Stabilizing the output pressure---the pressure on extruder can be reduced by 30%-50% after using melt pumps.
improving the product quality increasing the extrusion output---reducing pressure on screw and chaning the building pressure from "screw to die" to "melt pump to die", so the screw can extrude the products with high efficiency.
Mean while the back-pressure on the extruder can be adjusted, reducing the melt residence in screw cylinder, stabilizing the plasticizing process and improving the product's quality and quantity.
prolonging the working life---the pressure of extruder screw can be lowered after using the melt pumps, so screw wear can be reduced consumable
Gear melt pump on extruder Parameter:
Max. Outlet Pressure: 700Bar
Max. Outlet Pressure: 200Bar
Max. Differential Pressure: 500Bar
Viscosity:20000Pa.s
This type of extrusion melt pump is mainly used in conjunction with extruders or kneaders.
It reduces the natural pulsation and irregular conveyance, particularly in single-screw extruders, added to which, the build up of pressure in the gear pump is more efficient in comparison to the extruder. Because of this, less energy or heat is transferred into the polymer and the product is conveyed in a gentler manner. This type of extrusion melt pump is indispensable for the manufacture of precision films or micro granulate.
Specifications
Technical Parameter for BATTE ZB-H series gear melt pump on extruder: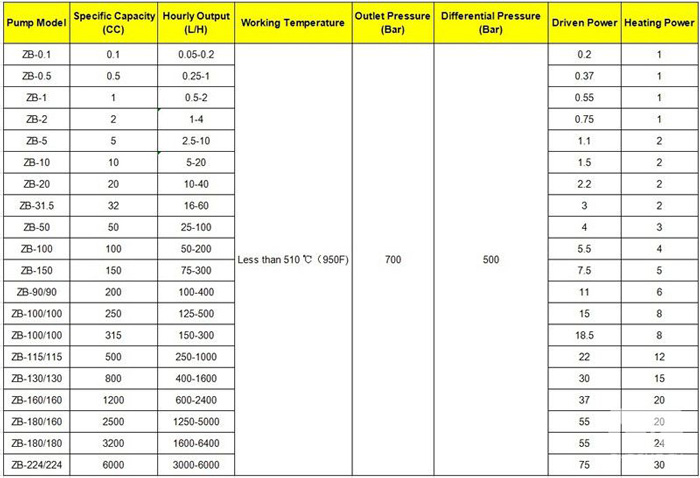 Packaging&Delivery
Packaging Details:
Items are usually wrapped with foam plastics, and then packed in wooden case.
Delivery Detail: 5-6 weeks
Other Services We Offered:
Experimental Services: Our company owns selfcontained laboratory where we could imitate the customers' manufacturing procedure and offer the experimental result for the customers' reference before purchasing the equipment.
Email: info@battemachinery.com
Whatsapp: +86 158 38331071