Plastic Plate Die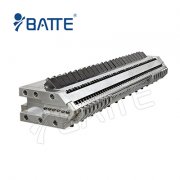 Products Details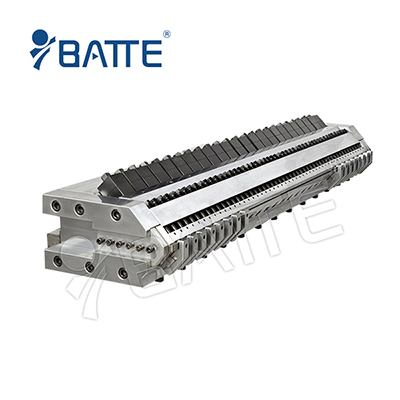 Once processors have experience with our carbide coatings to protect Plastic Plate Die from abrasion and corrosion, they often ask if we can coat other wear items in their process. This has resulted in our Cushion Master carbide protecting non-return valves, Ultrasonic Welding Horns, ejector pins, mold surfaces, polymer gear pumps, pneumatic conveying tubing, etc. We have developed solutions for all of these items, some very successful and some less so. We are open to helping find solutions to whatever issue you may have.
We Plastic Plate Die for a number of processors that extrude PVC through pipe and sheet dies. As PVC degrades, hydrochloric acid can result which corrodes steel and removes chrome plating.
In coat-hanger or siding dies, PVC degrades and builds up at the outward flow path of the die. This leads to frequent disassembly and cleaning, which shortens die life and results in the need for more frequent refurbishment.
We are working to help solve this corrosion problem with thermal spray coating. Our finished layer has very low porosity, which results in very high corrosion resistance. This polished surface resists material build-up and the hard particles will not scratch with aggressive hand cleaning.
The goal of this project is to at least double the time between complete refurbishment of dies and to reduce the need for frequent disassembly for cleaning.
Specifications
Plastic Plate Die Application:transport,decorate,advertisement,chemical,exhibition,package
| | |
| --- | --- |
| Item | Specification |
| Die steel | P20/5CrNiMo |
| Material | PE/HDPE/LDPE/PA/PS/LDPP/HDPP/ABS/EVA/PC/PMMA |
| Width of the die | 500mm-5000mm |
| Thickness of the product | 2-20mm |
| Choked flow rope | 90° |
| Way of flow passage | clothes rack type |
| voltage | 220V/50hz |
| Heating type | heating inside |
| Heater element | stainless steel heating rod |
| Mode of connection | closed cycled connection |
| Fastening piece | 12.9 high strength |
| Precision of polishing | Polishing precision of the stream surface of the die lip 0.03-0.04(μm)other parts is 0.04-0.05(μm) |
| Galvanization | the stream surface of the die head are treated by chrome treatment. Thickness 0.03-0.04(μm),hardness: 60-65Rockwellc,the chrome treatment thickness of the ektexine is 0.01-0.02mm. |
| Installation | according costumer's request |
| Way of charging | central ring charging way |
Email: info@battemachinery.com
Whatsapp: +86 158 38331071
Packaging&Delivery
无法在这个位置找到: message.htm